Make $15 a time - over and over again - with no expense and no marketing or advertising - this course shows you everything.
Do you have any audios, webinars or coaching lessons? Or any content at all?
If so, learn how to "re-purpose" them into Books, DVD's and CD's - at no cost.
In this 32 video course, I show you everything you need to do - and it's all simple and easy ... and above all, it's free!
You can make a very nice extra income from products you already own, for very little work - indeed, Amazon will do much of the work for you!
There's no advertising, nothing to pay out, no fulfilment - it's all taken care of for you - you just collect the royalties every day or every month.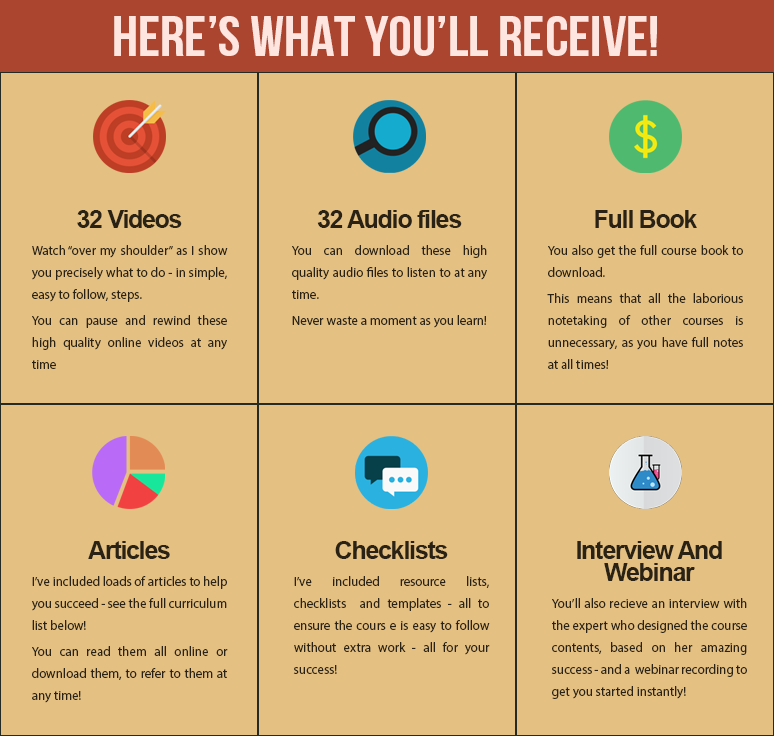 As well as the 32 simple to follow videos, you get
a full book to download,
loads of helpful articles,
success checklists,
a webinar recording,
success resource lists,
32 audio files,
success templates, and
an audio interview (and transcript!) with the expert who's doing this and cashing in big time, day after day. She encourages you to do the same, as the marketplace for books, DVD's and CD's is massive!
Yes - this is all in addition to these 32 video training lectures:

Introductory Video Lectures:

1: Overview: The Print On Demand Playbook (4:24)

2: Intro To Content Creation And Creating Digital Audio Content (4:46)

3: Creating Audio Content - Construction (6:07)

4: Creating Digital Audio Content Recording (6:03)

5: Creating Digital Audio Content Editing (5:40)

6: Creating Digital Audio Content - Processing (5:17)

7: Creating Audiobooks (2:47)

8: Creating Digital Video Content (2:15)

9: Creating Text Content (2:28)

10: Blog To Book (2:14)

11: Transcribed Content (3:27)

12: CreateSpace Royalty And Distribution Considerations (3:46)

13: Creating And Selling DVDs On CreateSpace (1:10)

14: Creating Your Physical Book On CreateSpace (11:03)

15: Creating And Selling With Kunaki - Part 1 (3:41)

16: Creating And Selling With Kunaki - Part2 (6:06)

17: Conclusion: The Print On Demand Playbook (1:20)
Advanced Video Lectures:

18: Downloading Video To Your Hard Drive (2:33)

19: Stripping And Editing The Audio (6:28)

20: Converting Audio Into Text (3:20)

21: Converting Video Into Text (3:28)

22: Converting Text Into The CreateSpace Format (4:58)

23: Uploading To CreateSpace & Getting Reviews (3:58)

24: Tagging Audio And Video Content (3:08)

25: Creating Covers In CreateSpace (3:26)

26: Final Steps For Success (7:13)

27: Uploading To Kunaki (3:01)

28: Selling On Kunaki (1:52)

29: Selling On Amazon And CreateSpace (2:40)

30: Using A Photoshop Template For Create Space (6:28)

31: Using A Photoshop Template For Kunaki (3:27)

32: Amazon Author Central Explained (2:09)